By Sarah Gerovac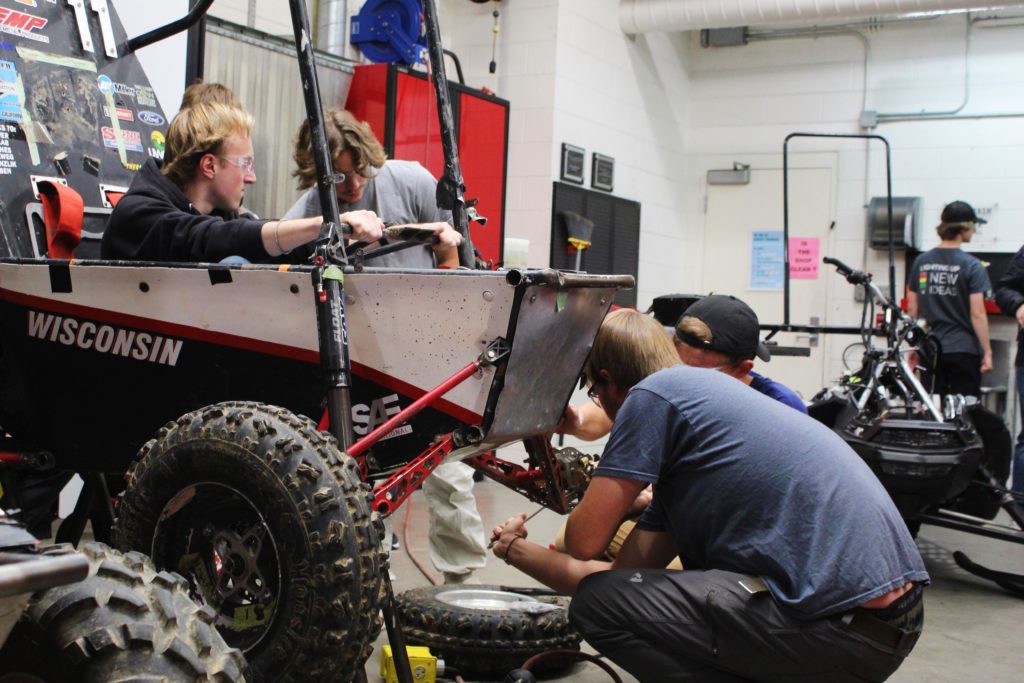 Most engineering students at UW-Madison have some grasp of the importance of extracurriculars, especially when it comes to finding real-world experience that will prove beneficial in the job market. In fact, there are over 50 engineering-specific organizations scattered around campus, vying for their next new member. However, while there are several clubs that focus on building cars, only one offers the off-road, hands-on experience of Baja SAE.
Each year, Baja designs and builds a one-seat, all-terrain vehicle meant to get muddy. Competitions are designed to test different aspects of the vehicle's design, and each one is composed of five dynamic events, which test features including tractor sled-pull and acceleration, suspension, traction, and maneuverability. There is also an endurance race, where teams complete as many laps as possible in four hours.
Baja SAE Co-President, Eli Gordon, showed me the team's design posters for their static events, where teams provide presentations and written reports about their vehicles. "We do design presentations for each subsystem, so it's suspension, steering, brakes, chassis, drivetrain, system integration, and ergonomics," he says.
Recently, Baja participated in a competition in Arizona in early October, their first fall competition, and came in 17th overall out of the 48 competing teams. They also placed 8th for design as part of their static event presentations. Additionally, the team competed at Rochester Institute of Technology last June and came in 6th overall out of over 85 teams.
Despite the many successes Baja has had in its competitions, members say they have gotten much more out of the experience than just trophies. Colin Hartigan, a sub team lead, explains that before he joined Baja, he hadn't had many opportunities to put his engineering skills to use in the real world.
"I hadn't really had any real-world experience in engineering," he says. "As soon as I started, I was put into a bunch of different projects doing computer-aided design, and I also got to get in the shop and get my hands dirty. That's kind of something I've always loved doing since I was a little kid."
Baja builds their entire car in shop, Hartigan adds. "This last winter break, we all came together for the last week and built the whole frame. Just seeing everything you design slowly come together into a car is something you wouldn't get to experience if you didn't do a club like this," he says.
This sentiment is shared by other members as well.
"The reason I joined, and the reason I still enjoy it so much today, is the team is a lot smaller than other racing teams," says Grant Christenson, another sub team lead. "It's a good blend of having stuff to constantly work on and being a serious team. Being a small enough group, it's easy to get very involved with very specific parts of the car."
Members of Baja SAE all rave about the rewarding experience that comes with participating in such an extensive and hands-on experience, and one of the most important aspects of the club is the connection it builds from school to real-world engineering.
"I've learned a lot that not a lot of classes teach here, and it's a great opportunity to get hands-on knowledge and network with people that teach very niche facets of mechanical engineering," Christenson says. "It's the conglomeration of a lot of interesting knowledge for a career path that not a lot of people talk about how to get into."
Participating in activities like Baja SAE is important in helping students build up the skills needed to land internship and job opportunities, specifically in the automotive industry. As demonstrated by the many College of Engineering extracurriculars at UW-Madison: there's no better way to learn than to do.
Photography by James Ballard, Graphic Design by Jaden Sim