By: Sydney Polzin
Over 40,000 children all over the world are born with a variety of heart defects that are often complicated to visualize, difficult to understand, and delicate to fix. Surgeons have very little room for error in open heart surgery to fix such defects, especially during the first few years of life. Alejandro Roldán-Alzate and his team developed a method of 3D-printing model hearts with these specific defects.
Roldán-Alzate has been a faculty member in the mechanical engineering and radiology department at UW-Madison since 2015. His current research focuses on fluid dynamics in the human body using medical imaging and engineering tools, such as computational fluids and experimental fluid dynamics. This research is applied to other fluid dynamics problems in the body, such as bladder voiding for individuals with diabetes, prostate obstruction, or after childbirth deliveries. However, Roldán-Alzate's research began by focusing on heart defects in children and adults.
"Most of my work has been centered on congenital heart disease, so kids that are born with malfunctional hearts or blood vessels," Roldán-Alzate says.
The origin of Roldán-Alzate's idea to 3D-print models began with attempts to understand the Fontan Operation, a surgical procedure in which blood is rerouted to get proper oxygenation in the lungs.
"Babies are [sometimes] born with one of the ventricles in the heart not working properly, so surgeons have to come up with an idea on how to optimize the fluid dynamics of the heart. The Fontan just reroutes the blood in places so it can be pumped efficiently," Roldán-Alzate says. "That's how we started working with models – how we brought 3D printing into this field… [Doctors] have the images but they cannot make a good 3D model of it in their heads… It started showing promising tools to train surgeons and how to approach this surgery."
Since this approach gave optimistic results, Roldán-Alzate continued to further develop these models to help kids with a wide variety of heart defects. In addition to helping doctors and surgeons understand how to execute the surgery, 3D-printed models also teach families about what exactly is wrong with their child's heart and how the surgeon plans to fix the issue.
"With the echocardiography performed on those kids when they're fetuses, we 3D print those models and use them to teach the families what it is that the heart is failing on… In that way, parents have the heart of their babies 3D-printed and they see what's wrong and what's going to be fixed," Roldán-Alzate says. "We also 3D print it in a way that we connect it to a pump and we simulate what happens by measuring flow with MRI….We would like to understand how the flow works so we connect that to a pump and we get it to work….That's one of the main aspects of the lab as well is how can we translate immediately to healthcare."
Beyond creating models for the heart, Roldán-Alzate and his team started creating models for other parts of the body, such as bones, to improve surgical techniques. Evolving technology allows them to continue to develop this technology in new and innovative ways.
"With the advancement of technology currently we have a lot of children that can still live a relatively normal life after those repairs, which was not possible several decades ago because there were not the same resources," Roldán-Alzate says. "Trying to understand what's wrong with each condition motivates us to develop new things."
Roldán-Alzate has helped eight children through his new technology, which he assures is the best part of the entire process. 3D-printed models of the heart open up future opportunities for these kids.
"Kids are resilient," Roldán-Alzate says. "They walk in not being able to do much and they are miserable after they get surgery because they have open chest and connected to many tubes and the heart was up for a while, but then you hear that a month later they came for check-up and they're just running around and everything is working out fine and you see that families are happy. Having that impact is much more rewarding than any publication or anything like that."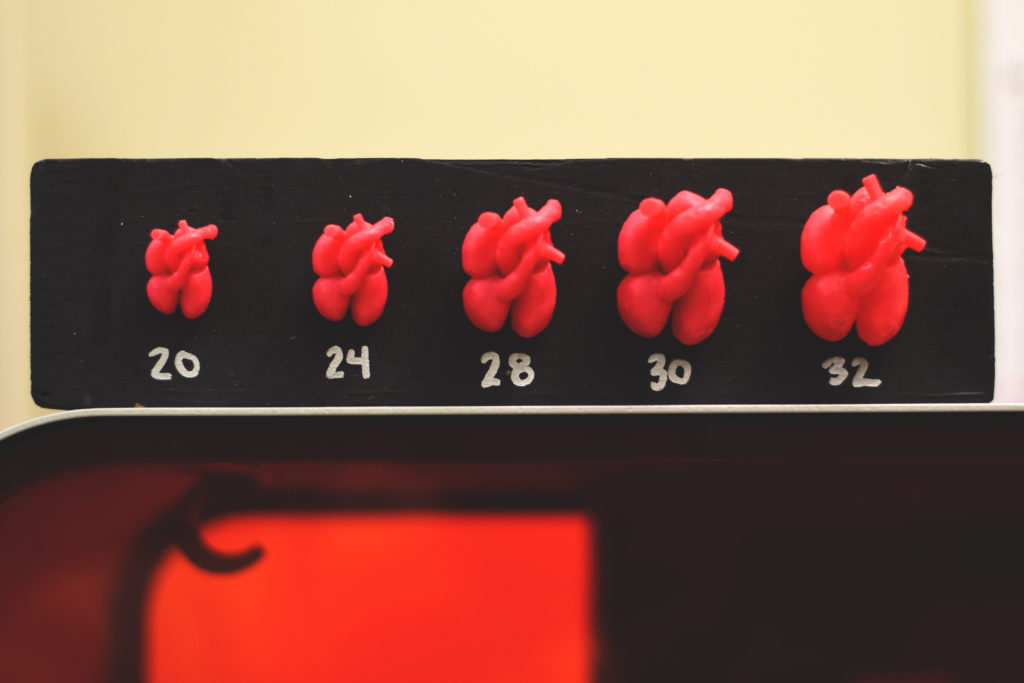 Photographs by Hridyesh Tewani