By Kristy Wendt
Emily Hahn recalls in her memoir No Hurry to Get Home the act of rebellion that made a place for all women in the College of Engineering at UW-Madison.
Though nearly fifty years had passed since women received full coeducational status at UW-Madison in 1875, an unspoken ceiling remained over the College of Engineering until 1922. Emily Hahn, an American journalist and feminist author from St. Louis, published 52 books and 181 articles for the New Yorker from 1929 to 1996, and was the first woman to graduate from the College of Engineering at UW-Madison in a self-described act of rebellion. She is shown in this image from Wisconsin Engineer's July 1979 issue receiving her honorary degree.
Hahn's decision to switch to the College of Engineering, as explained in her memoir, No Hurry to Get Home1, was made after George Clarke Sellery, then Dean of Letters and Sciences at UW-Madison (and namesake of UW-Madison's Sellery Residence Hall) refused Hahn's request to attend a chemistry course with professor Louis Kahlenberg on the grounds that it was only taken by engineering students, who were exclusively men. Hahn left her meeting with Sellery and transferred to the College of Engineering the same afternoon.
From No Hurry to Get Home.:
They were stunned when they discovered me, a seventeen-year-old female freshman, enrolled in the Engineering College. The University had a long-standing tradition, as well as a charter, for being a coeducational institution. Women studied medicine at Wisconsin, and the 'pure science' courses were full of girls; the Agricultural College too, had them. Nobody argued about that. But nobody had yet heard of a coed engineer. The engineers' immunity through the years had bred in their ranks a happy confidence that it could never happen there, and I was a horrid surprise. They lost their heads and went into a panic and, in the ensuing weeks, actually appealed to the state legislature to heave me out (pg. 58).
According to Hahn, the legislature refused the request to bar her from the College of Engineering, and she was assigned an advisor, Edwin R. Shorey, who as described by Hahn in No Hurry to Get Home, began his first advisory hour with her by asking, "Why should a woman want to be an engineer?" Hahn retorted, "Why did you want to be an engineer?" Shorey went on to argue that she would not get her degree because, "the female mind is incapable of grasping mechanics or higher mathematics or any of the fundamentals of mining taught in this course."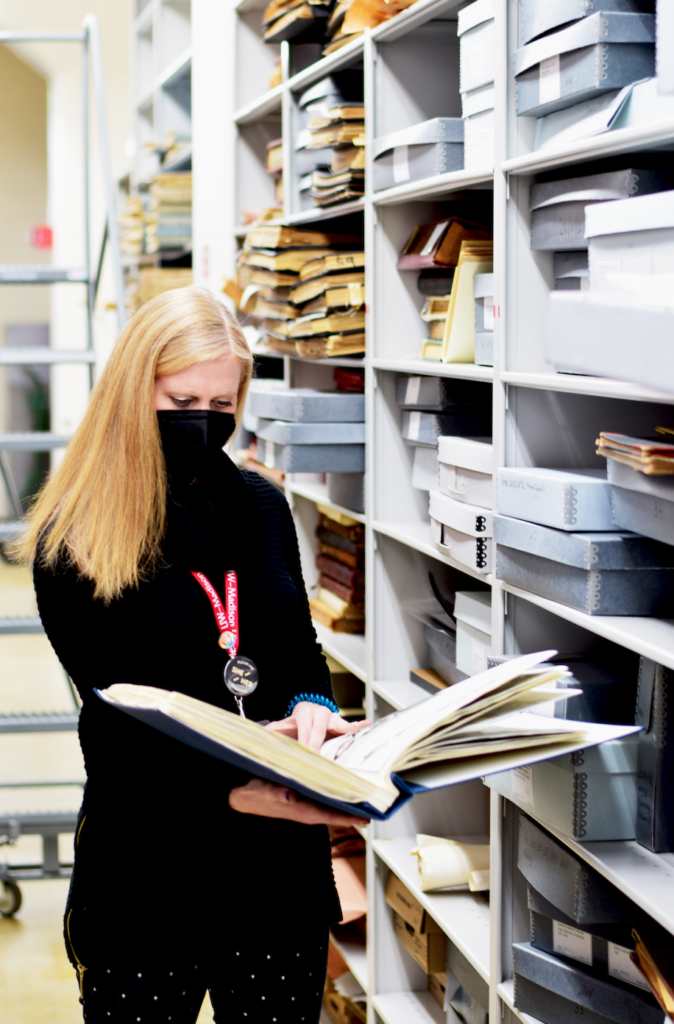 Hahn graduated in 1926 with a Bachelor of Science in Mining Engineering, a feat she directly credits to her first advisory hour with Shorey. Hahn recalls in No Hurry to Get Home, "From that moment until graduation, I completely forgot that I had not always, from my earliest youth, intended to become a mining engineer. Every day offered fresh reason for forgetting." Statistics provided by the American Society for Engineering Education (ASEE)1 show that while in 2020, 22.2% of UW-Madison's Bachelor's engineering degrees and 35.5% of doctoral engineering degrees were awarded to women at UW-Madison, only 17 women are represented in the 109 tenured engineering positions (15.5%) listed. A finding by UW-Milwaukee professor Nadya Fouad is that nearly 40% of women who earn engineering degrees quit the profession or never enter the field, a phenomenon attributed in multiple studies to the isolation of being a minority and associated lack of mentorship. These are pernicious variables that are difficult to quantify. Gender-influenced hierarchy of colleagues can lead to issues in mentorship access in departments that are otherwise equitable in terms of enrollment and tenure. Information regarding postdoctoral gender is not included in ASEE databases, nor are attrition rates in Engineering disciplines in the context of gender and academic career stage. Statistics provided by ASEE and the results of Fouad's study should invigorate community efforts toward the continuance of Emily Hahn's audacious pursuit of gender equality in the College of Engineering, now in its hundredth year.