By Teja Balasubramanian
"Sparking ideas. Igniting potential." This year's EXPO team is excited to be back on campus and host more than 2,500 middle school students from all over the state on April 22.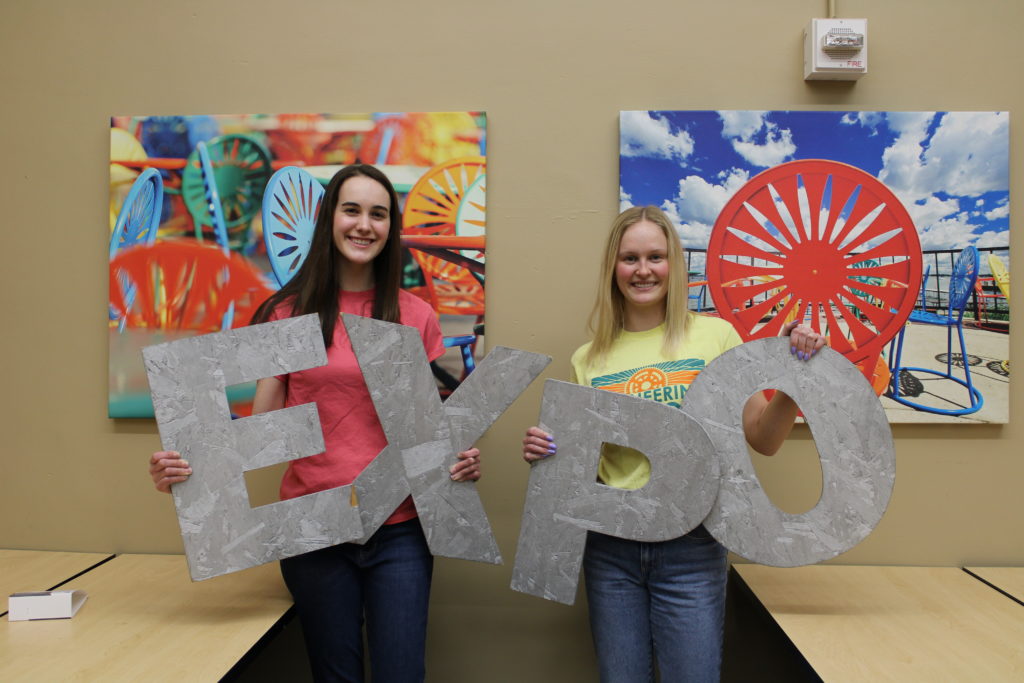 Lilly Dye, a third-year student at UW-Madison studying neurobiology and psychology, loved visiting UW-Madison's Engineering EXPO as a child. She vividly recalls her fascination with several "classic" EXPO booths: the wonders of liquid nitrogen, the smashing of pennies, and learning about soil stability. Today, having come full circle, Dye serves as the EXPO co-executive chair alongside Jenna Warden, a biomedical engineering graduate student.
UW-Madison's EXPO has some interesting origins. Before it existed, in the late 1930's, UW-Madison usually had a St. Patrick's Day celebration on campus. This annual event was fun and games until the pranks between the engineering students and the law students got out of hand. In 1940, this led to the first Engineering EXPO, in lieu of the St. Patrick's Day riots.
Dye is not the only one with fond memories of the EXPO. Warden studied biomedical engineering at UW-Madison as an undergraduate and volunteered at the EXPO her freshman and sophomore years – that is, until the event was canceled in 2020 due to COVID-19. In 2021, the EXPO was carried out virtually, and a recording of the event can be found on the EXPO's website along with several playlists and at-home activities to enjoy.
Fortunately, this year's Engineering EXPO is returning as an in-person event, and will be held on the UW-Madison College of Engineering campus on Friday, April 22nd for invited schools, and Saturday, April 23rd, from 9 a.m. until 2 p.m, open to the public. The EXPO will feature traditional exhibits with hands-on activities and live demonstrations, as well as booths featuring student organizations, lab tours, and even scavenger hunts. One newer tradition of the EXPO is a rocket launch activity, which began a few years ago and is now an annual event.
Another new exhibit is the Triangle Fraternity's kinetic sand art table, which will receive patterns from local artists to be imprinted onto the sand surface. The UW-Madison chapter of the national organization Engineers for a Sustainable World will also be presenting the basics of water filtration, and, as a take-home activity, will give students the chance to make their own filtration device using just a Dixie cup, soil, sand, and pebbles. The Society of Automotive Engineers will showcase their latest competition cars, and students will get the chance to speak to current members and receive insight about participating in a collegiate racing team. Wisconsin Autonomous will have an exhibit that will feature a self-driving car that drives through a set of cones.
The EXPO will also display exhibits that feature building robots to explore Mars, various biomechanical simulations, explanations of concepts like liquefaction, and the opportunity to try your hand at ice fishing or even holding fire. Thousands of students from all over the state get a chance to visit this event that allows young minds to explore the world of research and science.
Until 2015, the Engineering EXPO had been a three-day event held every two years. Now, the EXPO is split over two days and returns yearly. Fortune 500 industry leaders and engineering student organizations alike participate, and students are given the opportunity to showcase their engineering projects, research, and innovation to an audience of thousands. Over the years, the Engineering EXPO has become one of the largest in the country and garners the attention of parents, students, children, teachers, industry leaders, and community members alike.
Warden and Dye, as students themselves, believe that the student perspective woven into the event is part of what makes it so special. Volunteering and participating in the EXPO provides both the opportunity to learn and the chance to inspire young minds. Now, more than ever, the EXPO team is determined to make the event's in-person comeback a great experience for all.